"World Cup", a word that delights a cricket lover, a tournament that brings a country to unison, a tournament which every cricket-playing nation eagerly waits for, is lined up this year.ICC Men's T20 WC 2020 is scheduled from 18th October 2020 till 15th November 2020. However, due to Covid-19 pandemic, there are higher chances of this schedule to get revised.
BCCI president Sourav Ganguly is also looking for the same time window to host IPL 2020, as ICC is still unclear about the World Cup schedule.
Anyways, there are many more aspects to worry for team India other than the schedule for T20 WC.
The Indian team has played 6 bilateral series in the last six months. They have won 5 out of them including their last series against New Zealand. This shows that the Indian team is definitely one of the top contenders of winning this T20 WC 2020.
However, the 'Men in Blue' has got several departments on which they need to work ahead of this grand tournament.
In this detailed guide, we'll look at the 3 most important aspects that team India must address before T20 WC 2020.
1. Batting Position of KL Rahul
KL Rahul has made an impeccable impact in the T20 format and has often proved his ability by playing some class knocks not only in IPL but also at the international level.
His adaptability at different batting positions is astonishing. He is someone who can open, bat in middle and if needed finish the games too. However, the team management needs to decide how many balls they want to give to this top-notch player in the upcoming T20 WC 2020.
Also, his ability to keep wickets gives the team an option to go in with an extra batsman or an all-rounder. So it's better for a player if the team makes sure that he is clear of his role.
From the above stats, we can understand how well KL Rahul has performed at different batting positions.
Now, Virat Kohli and the team management need to address this important aspect ahead of the World Cup.
2. The Middle-Order Enigma
It has happened frequently that the top 3 batsman of the team performs so good that it overshadows the 'middle-muddle'.
The middle-order does not get many opportunities to show their true potential. The players are not able to replicate their performance at the international level as they do in IPL. Thus, the team requires batsmen in the middle order who can adapt in different situations under the crunch.
Also, it is imperative for the management to opt for the combination of players that fit best in the middle-order.
Here are the few options who can book their berths for the T20 WC 2020:
(A) Dinesh Karthik: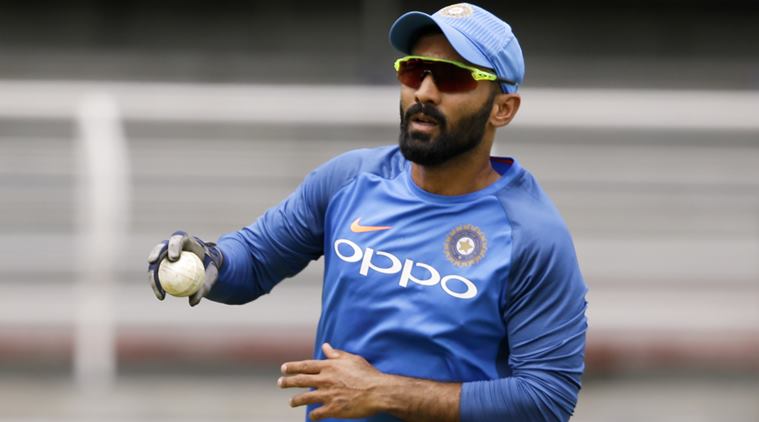 What's the first thing that comes to your mind when you hear DK's name? A Nidhas Trophy Champion?
Trust me, there is much more to Dinesh Karthik than this.
The right-handed wicketkeeper played a knock of his lifetime in "Nidhas Trophy 2018 Final", which many just dreams to pull off. However, his international career has always been in an unstable phase.
Dinesh Karthik's finishing abilities and calmness under pressure have developed him into a great player in the last 2-3 years. Thus, he will be definitely the name-to-think, while deciding the squad for T20 WC 2020. However, there'll be a question too – is DK a batsman who can rescue team India from batting collapses?
D.K. has taken his game to a level, which his stats are reflecting at. Not many players in the world would be having such a good batting average and strike rate in this format.

Have a look at the not outs, average, and the strike rate of Dinesh Karthik in T20Is. He is certainly a lethal finisher who can bring any game into India's favour. Also, being a senior player, he can always help Virat in playing out some tactical moves to outsmart opponents
Thus, DK is one of the best middle-order batsmen in this format for India.
(B) Suresh Raina:
A dashing left-handed batsman referred to as "Mr IPL" has lost his place from the team due to poor performances and injuries. Suresh Raina was once known as the "best T20 batsman of India".
He was an outstanding middle-order batsman and a top-notch fielder who can also be a 6th bowling option. Raina has also been appreciated by the vice-captain "Rohit Sharma" for his valuable impacts and experience he brings to the team.
Suresh Raina is another batter who can be successful at different batting positions, be it 3, 4, or 5. He has the ability to attack spinners, but he has to overcome his shortcomings against short of a length delivery that too when T20 WC 2020 has to be played in "Australia".

The above-depicted stats show how Raina can adapt at different batting positions, which makes him a reliable batsman for the captain. Also, with a very young group around, Raina's experience will be a key in middle order.
Thus, Suresh Raina is a very good option who can give stability in the middle-order.
(C) Manish Pandey:
The stylish right-handed batsman who shocked everyone by becoming the first "Indian batsman" to get a 100 in "IPL", has not achieved much in the international cricket. However, as his potential suggests, he is a real game-changer.
There has always been a debate against him regarding "lack of opportunities" or "capitalization of opportunities". The swashbuckling batter got the limelight at international level when he scored a century against "Australia" at Sydney.
The stage was set for young Manish Pandey but since then lack of consistent performance and not having a fixed batting position has resulted in him being in and out of the side.
Though his "IPL" stats don't show much difference when compared to his T20 Internationals, he has had a huge impact in IPL, be it for KKR or SRH, no one can forget his "94" in finals of "IPL 2014" which won Kolkata the title.
For Manish Pandey often it is said that the more overs he bats the better he performs. He is more impactful while batting up. The following stats show how Manish Pandey has performed at different batting positions in the IPL and T20I so far.
IPL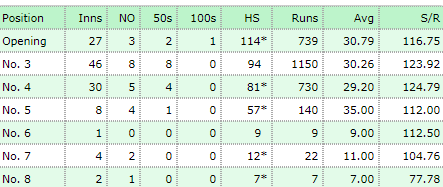 T20 INTERNATIONALS

While the numbers in IPL suggests that his impact decreases down the order, but his stats for India show a completely different story. His best has come at no.6 with an astonishing average of 115 and S.R. of around 150 in 7 innings which proves a point that he is more than capable to play as a "finisher".
Also out of his "118 innings in IPL, there have been just 15 innings wherein he has batted below 4". Is that enough to judge a player and build an opinion for him? If team might try him out at 5 or 6 for a little more time then a clear picture will be developed regarding his role.
His sensible 50*(36) against "New Zealand" recently, when he walked in at 75-4 of 8.4 overs shows his ability to rotate the strike, maturity and game awareness.
Thus, Manish Pandey also holds a strong place in the competition for making a place in the middle order for the upcoming T20 WC 2020.
(D) Shreyas Iyer:
A stylish Mumbaikar who reflects loads of confidence and the modern-day flashy youngster presents a strong case to not only be in the squad but also walk into the "playing 11" considering his consistent performances in white-ball cricket for "India" and "IPL".
Shreyas Iyer has been consistently improving his batting skills and this has resulted in him becoming the skipper for "Delhi Capitals".
The dominance of Iyer against spin is "conspicuous". Going down the ground for maximum on a slightest full of length delivery is a treat for fans to watch.
Below are the stats of Shreyas Iyer batting at different orders in the T20Is.

In a very short time, Shreyas Iyer has succeeded to impress everyone with his ability to rotate the strike. His game against pace has been little questionable, but these are very young days in Shreyas's career. We need to see him more at international level before we draw any conclusion.
Also, his century against New Zealand in alien conditions (ODI) is a proof of his good all-round game.
Smashing 30 in an over to a 140+ bowler "Shivam Mavi" in an IPL game reflects that Iyer is not a joke against pace bowling, his numbers are better of batting at top and are best at "4", a batting position to which team India has constantly chopped and changed a lot of players.
So can Shreyas be the answer for India's no.4?
We'll see that once the T20 WC 2020 starts. However, according to Shreyas Iyer himself, he thinks he holds a secure position at no.4, as he has been playing at the same position for India since last 1 year.
58*(29) = IND VS NZ T20: Chasing 204…….result India won
44(33) = IND VS NZ T20: Chasing 134…….result India won
33*(31) =IND VS NZ T20: Defend 163………result India won
Three different innings at 3 different kinds of circumstances prove his worth of adapting easily to different conditions and having good game awareness
The above numbers are Iyer's stats at different batting position in IPL which show that he has just on 3 occasions batted below 4. So, Shreyas's finishing powers is something no one is aware of, but when it comes to batting in the upper-middle order, Iyer's number shows that he is one of the best in the country.
(E) Rishabh Pant:
Hitting sixes with ease is something by which Rishabh Pant caught the attention of everyone.
Compared with "Adam Gilchrist", "MSD", termed as a mix of "Suresh Raina" and "Yuvraj Singh", an under 19 rookie turned into an "IPL Superstar".
Rishabh Pant did get runs but unfortunately, he failed to impress on occasions. Also, his glove-work hasn't been up to the expectations.
The pressure of filling big shoes of "Thala" might have taken a toll on him. Also, with KL Rahul taking the keeping role has resulted in Pant losing his place from "11". However, his potential to play big shots to turn a game into India's favour will certainly make Virat Kohli and the selection committee to think of his selection for the T20 World Cup.

Here are the IPL's stats of Rishabh Pant batting at different orders. He has been consistent in IPL and has hit "94" sixes in 54 games, which is remarkable.
This implies that his batting is enough to give him a place in the playing 11, even if KL takes up gloves. The worrying part is that he has not been able to replicate his IPL performances at the international level. Yes, there have been a few good knocks here and there but they are not enough.
Following are the stats that portray his batting performance in the last 12 international series he has played.
That's not the "Rishabh Pant" we want to see. He can be lethal if he performs to his potential.
Another very tempting option is to make Rishabh open if possible or be a backup opener, in the power-play with just two fielders being outside the circle. Pant can give a "fiery start" and allow Rohit to take his time and then do what he does. Thus, Rishabh pant is another very exciting option for India's middle order.
(F) Mahendra Singh Dhoni:
The name itself is enough!!
After the disappointing end to the WC 2019, fans haven't been able to see the heroics of "Thala" on the cricket field.
No one is aware of his plans for the future but it is said that a good IPL will bring him back to the national squad. Now here are some questions we need to ponder on:
MS Dhoni was never dropped from the squad. He made himself unavailable, so what does it mean? Is it a short break? Is he willing to play for India anymore?
The man who has done wonder in international cricket for almost 16 years, does he need an IPL to prove his selection?
Is the team management interested in picking him?
MS just by his presence on the field can make a huge impact on the game by his tactical field setups to help Virat. His astonishing ability to read batsman from behind the stumps and guiding the spinners to bowl different lengths, had won many games to India.
Often we see that the batsman who is cruising is outsmarted by Dhoni's tactics and that one wicket gets India the desired result.
The following stats depict the batting performance of MS Dhoni at different positions in T20Is.
He has outstanding numbers batting at no.4. Thus, keeping MS Dhoni out of the squad for T20 WC 2020 would be a very tough decision for the management, as he has been the best captain in the history of Indian cricket.
3. The Best Playing Combination
The 3rd most important aspect that team India must address ahead of the T20 WC 2020 is finding the best playing combination.
From the last couple of years, it has been seen that the 'Men in Blue' has struggled to find a perfect combination of players, who can perform consistently for the team.
Now, let's discuss challenges and the best prospects that are associated with the playing combination of team India.
(A) Bowling Combination
The first challenge for the captain and selection committee is to find the perfect bowling combination that can dominate the batting line-ups of other teams in Australian conditions.
Here are the 2 major challenges for the Indian team with the bowling combination for T20 WC 2020.
a) Bumrah + Who?
With "Jasprit Bumrah" being the sure-shot leading bowler of the group, it will be quite difficult to choose who's going to accompany him. Keeping the Australian pitches in mind, the team has to decide how many pacers do they need and what are the best options?
Let's look at a detailed analysis of Indian pacers who beholds the potential to make up to the squad for the T20 World Cup.
(i) Deepak Chahar: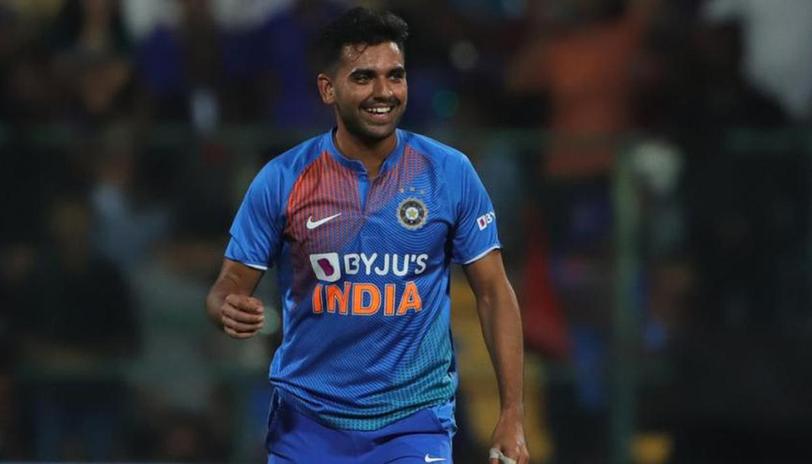 Many said "white ball doesn't swing anymore ", but this did not stop Deepak Chahar to bring back an art which was lost somewhere in between those big sixes.
When many top-quality bowlers were being hammered in IPL, Deepak was busy swinging the ball and getting the top batsman around the world dismissed, which includes the current "Captain" and "Vice-captain" of the Indian cricket team.
Deepak can create an impact if he provides the team with some early breakthroughs.
These are the list of batsmen dismissed by Chahar and most of them are either "top or middle-order batsmen", such is the quality of Deepak Chahar. His 6 for 7 against Bangladesh is still fresh in our memories. He also has a good "knuckleball" and a "pinpoint Yorker" which makes him decent at the deaths too.
The Above data of IPL shows that Deepak is fond of hunting "big fishes".
And no difference in T20 internationals as given below

Since IPL 2016, Krunal Pandya (7.57), Ravichandran Ashwin (7.77), Mustafizzur Rehman (7.87) and Deepak Chahar (7.93) are the only IPL death bowlers with an economy rate of below eight.
Deepak Chahar would certainly be the first choice to make up to the squad. However, he needs to maintain his fitness and get rid of the injuries.
(ii) Navdeep Saini: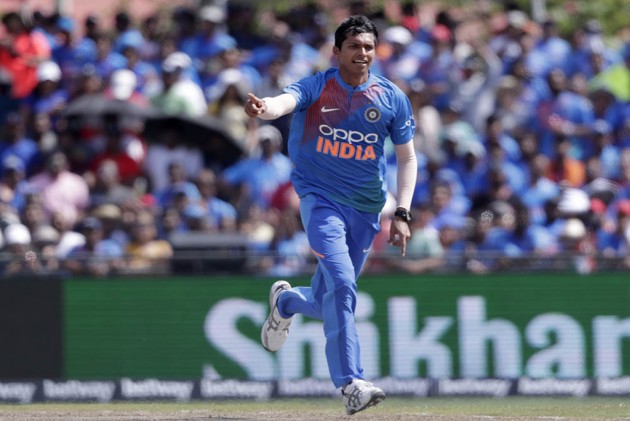 "Sheer pace", a tall young fast bowler can be said as the quickest in India. Navdeep Saini possesses the ability to bowl consistent Yorkers and sharp bouncers.
His outstanding penultimate over against New Zealand, where he just gave away 4 runs defending 11, shows his skill backed by his temperament. Navdeep's ability to extract extra pace and bounce off the surface could be tailor-made on Aussie soil.
The above-depicted stats show that in IPL Saini top the list of the maximum number of dot balls bowled in deaths by the bowlers.
That's impressive! He can take a lot of load off Bumrah and can be a second or third pacer for India in the T20 WC 2020.
(iii) Mohammed Shami:
Shami, one of the most experienced Indian pacer has a beautiful seam position, 140+ pace and allows the ball to reverse beautifully. He is a genuine wicket-taker who never disappoints his captain.
In the last one and a half year, Shami looks fitter, stronger, and has transformed himself as a bowler of all the three formats.
These are his IPL stats from 2013. Even though he did not show much promise at the start of his career and seemed like more of a "red ball bowler", but certainly 2019 was a wonderful season for him. He emerged as a lead bowler for KXIP and bowled a couple of match-winning spells for them with a much more improved strike rate and economy.
In IPL 2019, Shami had "highest wickets" along with Bumrah and Khaleel among Indian pacers. Shami's death bowling was a concern once, but now when the world saw him bowling those consistent yorkers against recently concluded ODI series against Australia is a sigh of relief and joy for team management.
In addition to this, giving just 8 runs defending 9 in an over even after being hit for the maximum of the first ball shows Shami's caliber as a slog overs bowler. This over also includes wicket of a set "Williamson" at 95 on a "back of a length delivery."
"Stats do lie again", over the years if we just look at his stats, he has not played a lot of T20 Internationals for India, in fact just "39.4 overs in 6 years".
The primary reason being his injuries and sometimes poor performances, Shami has an inconsistent T20I career. However, he has definitely proved his abilities now and will indeed play more for India in this format in the T20 WC 2020.
(iv) Bhuvneshwar Kumar:
The "Meerut boy" set the international stage on fire with his ability to swing the ball in both directions. However, having a mediocre speed started troubling him, and his career started falling down. He then increased his pace and became much more than a new bowl bowler.
Bhuvneshwar Kumar started taking wickets in starting overs as well as at deaths. Bhuvi has done it all, but due to injuries he has been in and out of the side. His knuckleballs and accurate Yorkers have got him success in deaths, thus letting him win purple cap twice in the biggest T20 league.
However, recent form hasn't been in favor of Bhuvi.
Since the 2018 IPL, Bhuvneshwar has given away 210 runs from 103 balls at the death, making him the third most expensive bowler in the tournament. Compare that with an economy rate of 8.95 in the previous two seasons, and you can get a sense of Bhuvneshwar's steep fall.
But as it is said, "form is temporary and class is permanent." His 03-0-03-0 against West Indies in 2014 WC was an 'unrealistic spell' defining the art of swing bowling.
The above stats depict the bowling performance of Bhuvi in T20I since 2012.
Considering his decent dip in form, his overall career economy rate just above 7 shows his impact. The pressure he creates especially in the power play with 9 fielders inside 30-yard circle results in benefitting other bowlers too.
Bhuvi on his day can turn any game into India's favour.
Now, let's look at the IPL stats of Bhuvi:
Bhuvi has been bowling the most crucial overs, but every year we see his economy is below 8. Even when the universe boss "Chris Gayle" smashed 175 runs against Pune Warriors, he gave away only 23 runs in his 4 overs.
According to the God of Cricket, Sachin Tendulkar, if Bhuvneshwar Kumar is selected for the T20 WC 2020, he can prove to be a lethal weapon in Australian conditions.
(v) Shardul Thakur: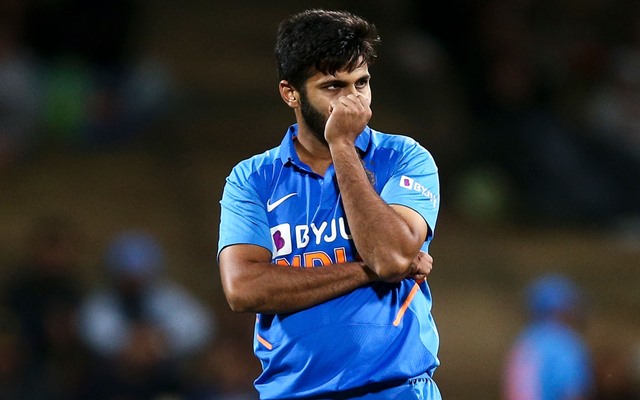 This talented Mumbaikar shows a lot of determination whenever he plays. He can swing ball upfront, mainly he gets a little bit of shape outwards.
It's not wrong to say that out of all the Indian pacers, Shardul's case for selection purely as a fast bowler might not be that strong, but his batting is what is best among all the other options.
With Virat Kohli looking for a team combination that can bat deep, It won't be a surprise if India goes in with Shardul being the third pacer who can bat at 8. He has won India an ODI game scoring 17*(6) with 2 boundaries and a six. Shardul has also won CSK the first qualifier in IPL 2018 by scoring off three consecutive boundaries.
But bowling being his primary skill, he has failed to impress as much he should have.
His IPL performances show that his economy has been a tad higher and hasn't picked a lot of wickets too, but he has been impressive on occasions.
Shardul's T20 numbers show that he has got a decent strike rate but he should work on his economy. His death bowling has been a concern but he has shown signs of improvement, whether it was taking 3 wickets in an over against Srilanka in 19th over or successfully giving just 6 in the last over while defending 7 against NZ.
In Australia, where India would want to go in with an extra pacer, Shardul presents a strong case to be in the squad. Also with Hardik's fitness being a concern along with Dube and Shankar, Shardul can present his case as an all-rounder who can bat lower down. However, Shardul Thakur will have to be more consistent to secure his berth for T20 WC 2020.
b) Is "CHAKU" Sharp Enough?
After the ICC Champions Trophy 2017, the team management has decided to move on from Ashwin and Jadeja and introduce two wrist-spinners.
The move did work for the Indian team as the two wrist-spinners Kuldeep Yadav and Yuzvendra Chahal (together known as Chaku or Kulcha) complemented each other well.
Both the wrist-spinners complement each other's techniques and temperament.
But the issue with them playing together is that they don't contribute with the bat at all especially in T20 format where teams want to bat deep. Thus, in recent times it's been Chahal who got more chance to play, because his ability to bowl in powerplays, middle overs and if needed at slog end sets him apart from all other spinners.
Chahal seems to be knowing what's the batsman is trying to do. He never refrains from giving the ball a loop in the air even after being hit for runs, which eventually results in him picking wickets.
Yuzi once ran through against the finest white-ball team like "England" by picking 6 wickets for 25 runs. He has bowled many match-winning wickets and has outsmarted the batsmen at crucial phases of the game.
On the other hand Kuldeep Yadav has mostly bowled in the middle overs and neither in powerplay nor at the end. Kuldeep had an awful "IPL 2019" wherein he was smashed brutally by "Moeen Ali" in one of the games.
These are the IPL stats of Kuldeep. In last season, he just managed to take 4 wickets in 9 innings. This is complete contrary to the Kuldeep who ran through English batting conditions picking 5 wickets in 4 overs which included the dismissals of the best of white-ball players.
With a brilliant economy and strike rate, Kuldeep proves his utility in T20I format but there's a recent dip in his form. Kuldeep often doesn't share the ball with his buddy Chahal now. Also with players like Jaddu, Sundar, Krunal providing multiple dimensions, Kuldeep's place in the "first 11" for T20 WC 2020 is a concern.
Indian captain Virat Kohli also said in an interview that "chances of playing both the wrist spinners are slim." Thus, team needs to work out if they want to play both or if one, then who?
(B) Hardik Pandya's Backup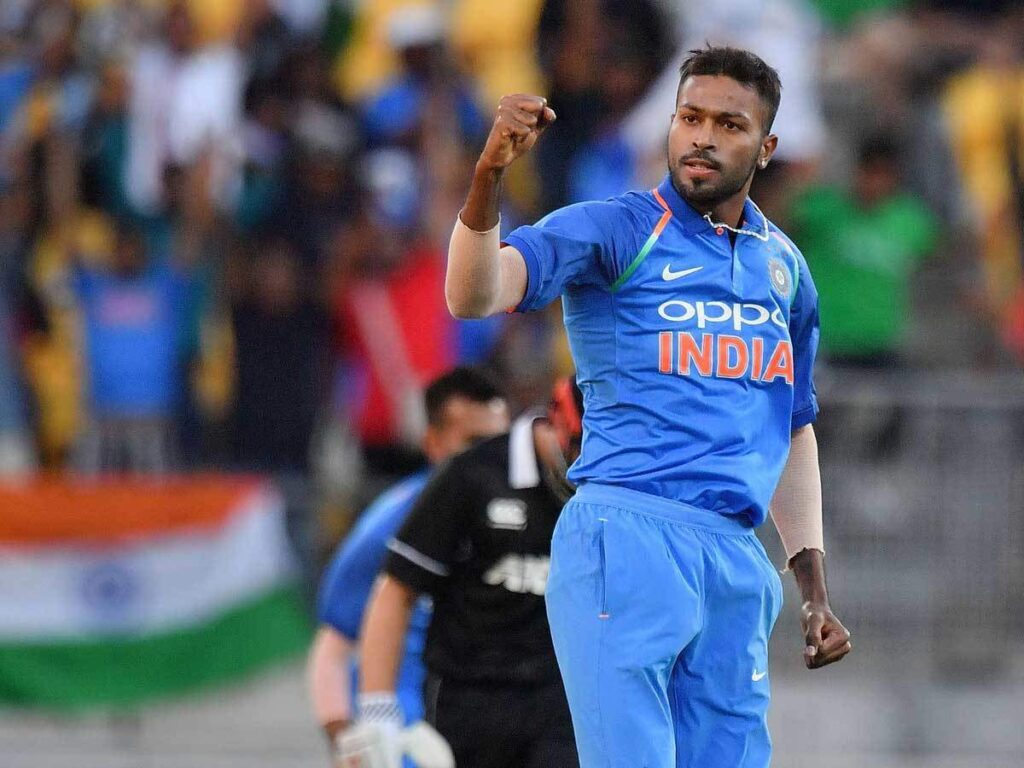 While it goes without saying that Hardik's role for India, especially in the T20 format is extremely crucial.
Indian Team heavily on him as he is the only fast bowling all-rounder in India who beholds potential to finish strong, score quick runs, and also take crucial wickets.
Because of his ability of "power-hitting", Hardik Pandya gives his fans a bit of West Indian flavor. He is effective with the ball too and picks wickets on crucial situations often. He doesn't shy away from taking challenges with the ball and is a decent death bowler too.
No one will ever forget his last over at Chinnaswamy against Bangladesh in World Cup 2016 Qualifiers. His all-round performance has won India many games and one such performance was 4-38 against England with the ball followed by 33*(14) with the bat to seal India the series.
Adding to this he is an outstanding fielder too and pulls off some spectacular catches. Hardik has shown more of such performances for "Mumbai Indians", his IPL Team, as he gets more opportunities to bat there. With MS's availability a question mark, Pandya can be India's lead finisher. However, if he remains unfit till the T20 WC 2020, the team needs to find his backup.
It is a well-known cricket fact that evolution of Hardik over the years in IPL is amazing. The above stats show that IPL 2019 was a wonder for him. He batted at a strike rate of over 190. However, Hardik has a strike rate of 148 in T20 Internationals, which is surprisingly below his standards.
Now the issue is that team doesn't have a "like for like replacement" for Pandya. Options being "Vijay Shankar and Shivam Dube" both of them have shown potential but are still very below as compared to Hardik's standards.
Dube's 50 against West Indies and his 3 wickets haul against Bangladesh to seal the series for India showed some promise, but since then he has been inconsistent and failed to impress.
Vijay Shankar too hasn't set the stage on fire barring few performances here and there for "India" or in "IPL." He was given a golden opportunity of playing at no.4 for India in the World Cup 2019. However, he didn't perform as per the expectations and the selectors were heavily trolled for that.
We do have spin bowling all-rounders too as Hardik Pandya's backup, but none of them can hit the ball with as ease as Hardik can. Also, there is a kind of combinational change that India has to make in Hardik's absence, i.e. playing an extra fast bowler.
Thus, with Hardik's fitness under the constant scanner, India has to find a way to build an equally strong combination even if Hardik remains unavailable for selection by any chance.
(C) Shikhar Dhawan -Yes or No?
The last challenge that needs to be addressed to find the best playing combination is Shikhar Dhawan's place in the squad for T20 WC 2020.
While "Gabbar" has been a great ODI player, his T20 numbers don't reflect the same story. Shikhar has played some good T20I innings, but his strike rate doesn't match the standards of modern-day T20 cricket.
Furthermore, if he plays he has to play as an opener. With KL Rahul having outstanding runs as an opener in T20Is, the circumstances looks harder for Shikhar.
However, the experienced campaigner has shown improvement in strike rate and provided a lot of stability to batting department. Furthermore, being left-handed batsmen, there is always an advantage of left-right combination.
Here are the stats of Shikhar Dhawan's batting performance over the years in T20Is. His form in 2019 and 2020 has not been good and thus, it's tough for him to make a fixed spot in the playing 11 in the T20 WC 2020.
Conclusion
In this article, we discussed the 3 most important aspects that team India must address before T20 WC 2020. These 3 aspects include; batting position of Kl Rahul, the middle order enigma, and the best playing combination.
Hope you enjoyed this detailed analysis of the imperative aspects for team India ahead of the T20 World Cup. For more interesting articles, cricket facts, and match predictions, stay connected with Crickclassics.
You can follow Crickclassics at – Instagram, Facebook, and Twitter.
About the Co-Author:
"This is an article co-authored by Anmol Ranjan, a passionate cricket lover. Anmol loves to analyze the game, have an opinion, write and read about it. He is also an Engineering student"