"Sachin Ramesh Tendulkar" is not just a name but an unexplainable emotion for all the cricket lovers. From being known as the 'God of Cricket' to being an idol of millions of people in the world, Sachin Tendulkar has come a long way.
There are hundreds of records that Sachin has made throughout his career and most of them are really hard for any other cricketer to break. However, Sachin believes that there are several players in the world like Virat Kohli, Rohit Sharma, Steve Smith, Joe Root, etc. who have great potential to break his records.
In this article, I'll take you on a little journey, where we'll remember those 3 best innings of Sachin Tendulkar's career that behold incredible importance in cricket.
The "Master Blaster" has scored more than 34,000 runs and the "Sachin Tendulkar Record" book holds 100 centuries to his name. Sachin has played some magical innings in his career but, there were some top innings which made him a class apart and we'll time travel to the top 3 innings of his magnificent career.
Sachin Tendulkar's Top 3 Innings
Following are those top 3 innings of Sachin Tendulkar's career, which I've picked for you –
1. 134 vs. Australia at Sharjah, 1998
After batting first, Australia had put up a huge score of 272 and India had to chase it down in the Finals of Coca-Cola Cup, 1998. The 25-year old Sachin Tendulkar was ready to open the innings with Sourav Ganguly.
India started steadily which seemed like the calm before a storm. Sachin changed gears in the 5th over as he almost swept Michael Kasprowickz for a boundary over mid-wicket and Michael looked bamboozled.
He then bowled it on the legs and the ball was glanced delicately to the boundary through fine-leg by the master.
The real class of Sachin Tendulkar showed up when Kasprowickz bowled a textbook delivery outside off stump in the "corridor of uncertainty" and Sachin punched it through the covers for a boundary. Tony Greig while commenting said, "It is one of the best shots I have seen in a long time".
It was at this moment, Australia knew that the storm is waiting to shower their bowlers for runs.
The greatness of this innings did not end here. Wickets kept falling on the other end but Tendulkar did not stop his aggressive batting style and kept smashing the bowlers all around the park. He managed to score 134 runs off 131 balls as India won the match easily.
Every century in a cricketer's career is special but this innings had a different outlook all together.
Tendulkar showed his calmness under high pressure situation. He showed that he is a 360 degree player having the ability to smash legendary bowlers like Warne and Kasprowickz. Not only this, he also taught everyone that how a cricketer should play his natural game in such high pressure games.
2. 98 v. Pakistan at Centurion, 2003 World Cup
India looked one of the favorites before the start of the ICC World Cup 2003 and also played like that in their previous matches but now the stage was set for the biggie against Pakistan whom they hadn't lost to, in the World Cup cricket.
Pakistan batted first and scored 276 runs, courtesy to Saeed Anwar's brilliant century. The deadly duo of Tendulkar-Sehwag was ready to open the innings for India.
India went off to a steady start as they formed a 50-run partnership but soon after Sehwag got out caught by Afridi in Waqar Younis' over. And on the next ball itself, Ganguly got out on golden duck and suddenly India looked in trouble but the "Master" was standing on the bowler's end with rage in his eyes and confidence in his body language.
When he came on the striker's end, he did something unexpected and started counter attacking the likes of Akhtar, Akram and Younis.
This was a move that Pakistani bowlers did not expect at all and so, they did not have any solution to this kind of counter-attack. Sachin was smashing them everywhere he possibly can and the Pakistani fielders were just watching the ball go past the boundary.
Sachin looked in red hot form and he proved it as he invented in his own shot in this innings. He smashed Shoaib Akhtar's short delivery through third-man for a humongous six and Akhtar looked absolutely clueless. Later on, the shot was called the "Upper Cut".
Sachin single-handedly took the match away from Pakistan and the ship was sailed to the shore by Rahul Dravid and Yuvraj Singh.
India won the match by 6 wickets and with 4 overs remaining. It was one of the deadliest innings ever played by Tendulkar as he gave counterattacking cricket a new meaning that day.
Even though Sachin Tendulkar did not score a century that day, many call this innings as one of the greatest innings of Tendulkar's limited-overs career. This innings of Sachin holds a special place in the history of Indian cricket.
3. 241 v. Australia at Sydney, 2004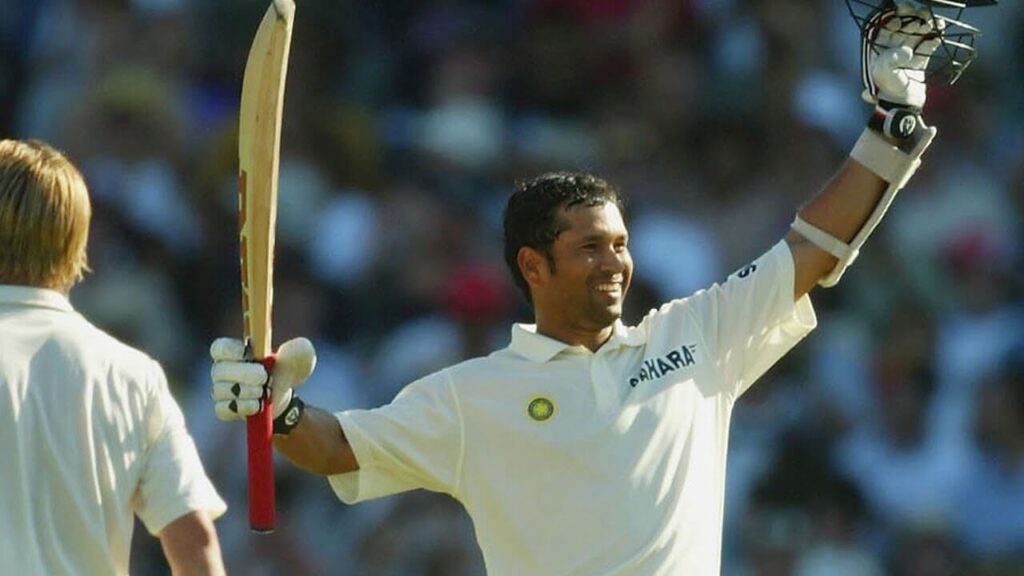 It was the 4th Test match of Ind-Aus test series and Sachin had not contributed much in the series, but, everyone knew that something special was coming from him in the near future because the law of averages works irrespective of your form.
India batted first in the Test match as Akash Chopra and Virender Sehwag gave a good start to the Indian innings. Sachin came on to bat at his usual No. 4 position and started leaving every ball outside the off-stump without even offering his bat.
Sachin Tendulkar- the Master of cover drives did not play a single cover drive in this innings. He continuously hit balls only through the leg side and offer no shot to the balls coming in the outside off region. He went onto score a double century in this innings by only scoring runs through the leg side.
The story that unfolded after the match was that Sachin had noticed that in the previous 3 Test matches he was consecutively getting out by playing cover drives.
The thing about Great sportsmen is that they don't only know their mistakes but also know how to correct them. So, in the fourth Test match Sachin decided that he will not play a single cover drive and will not touch a single ball outside the off stump.
Sachin played 436 balls in the first innings where he only hit 7 boundaries out of which none was through the off-side.
The innings was not merely a story of self-introspection or correction of mistakes, it was a tale where Tendulkar proved that nothing is impossible to achieve if you have the will to achieve the same.
Conclusion
It was really very difficult for me to pick up the top 3 innings of Sachin Tendulkar from his 24-years long journey. However, I hope you enjoyed this little journey of these nostalgic memories from Sachin's career.
For more such interesting articles, stay connected with Crickclassics. Also, feel free to leave your valuable suggestions in the comments below.