Prasidh Krishna has made an international debut, and in a very less span of time, this young fast bowler has made an impact among a lot of cricket fans.
India's international men's cricket team has a lot of high-profile players. One of the world's best batsman, Virat Kohli, is in the Indian team and India also have a fast and clever bowler like Jasprit Bumrah. 
Now, a young lad, Prasidh Krishna, is proving his ability. He played his debut international match against England, and in his first match, Prasidh took 4 wickets and breaks the 24-year-old Indian record.
Let's know about the biography of this young Indian bowler.
Biography of Prasidh Krishna
Prasidh Krishna is a young and talented Indian fast-bowler. Krishna's efforts with the game began as a schoolboy when he joined his school team under the guidance of Srinivasa Murthy at Carmel School in Padmanabhanagar. His mother has been a former national-level volleyball player.
Prasidh Krishna's DOB
Prasidh Krishna was born on 19 February 1996. 25 years old Prasidh Krishna's full name is Muralikrishna Prasidh Krishna, but he writes only 'Prasidh Krishna' on his jersey. Krishna comes from Bangalore in the state of Karnataka.
Height of Prasidh Krishna:
The height of Prasidh Krishna is 6 feet and 2 inches. When measured in meters, the height of Prasidh is 1.88 meters.
Prasidh Krishna Bowling Speed:
Prasidh Krishna is a Right-arm fast bowler from the state of Karnataka. Krishna himself received training from Glenn McGrath at MRF Pace Foundation.
Not only this, Jeff Thomson, a speedy emperor at the Australian Center of Excellence in cricket, taught him to bowl stormy. Prasidh Krishna bowls continuously at a speed of 145+ km.
Cricket Career of Prasidh Krishna:
Prasidh Krishna, who was once a net bowler of Royal Challengers Bangalore, made his first-class debut in 2015. At the same time, he caught the attention with great bowling. Then the Bangladesh team came to India. Krishna took 5 wickets for 49 runs in the first innings and made his debut. He has taken a wicket on the first ball of his first-class career. However, after this, Krishna went somewhere lost.
He returned to the Vijay Hazare Trophy in 2017-18. Prasidh took 17 wickets in 8 matches. He was the second-highest wicket-taker in the tournament. In the final against Saurashtra, he took 3 wickets for 37 runs and won the match for Karnataka.
Prasidh Krishna's Debut In IPL:
Krishna made his IPL debut in 2018. He plays for the Kolkata Knight Riders (KKR) team in the Indian Premier League (IPL). While playing for the KKR in 2018, Prasidh played 7 matches in that season and took 10 wickets. He took four wickets for 30 runs against Sunrisers Hyderabad (SRH) and played a key role in his team's victory.
Prasidh Krishna, who took 14 wickets in 18 matches of IPL, has bowled at a strike rate of 29, however, in terms of economy, he has been very expensive in this tournament. Krishna, who spends around 10 runs per over, may not be a hit in the figures, but he has great confidence and an urge to learn.
Prasidh Krishna's Debut In International Cricket:
Prasidh played his first international match against England on 23 March 2021 in Pune and performed very well. Krishna took four wickets in the first ODI against England.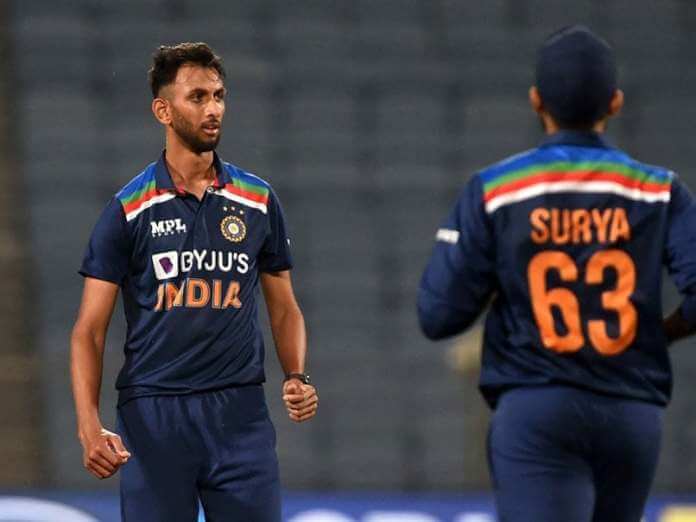 He is the first Indian bowler to take four wickets on debut in One Day Internationals. Krishna broke Noel David's 24-year-old Indian record on his ODI debut. Spin bowler, David, took three wickets for 21 against the West Indies in 1997, which was the Indian record for best bowling in a debut match.
16 other Indian bowlers have taken 3-3 wickets on debut in One Day Internationals. But nobody had taken four wickets till this time.
Conclusion
There are thousands of young cricketers in India who are working really hard to make it into the international team. Prasidh Krishna was also one of them, who with his hard work and determination has achieved success and got the opportunity to make an international debut for the Indian Cricket Team.
Now, it'll be interesting to see how Krishna continues his hard work and keeps his place safe in the team in an atmosphere of very high competition. For more such interesting articles, IPL 2021 updates, the latest cricket news, and players' biographies stay connected with Crickclassics.
---
Author Bio

Akash is the Founder and Writer of the Sports Platform website. He conceived the idea of starting a Sports Platform website to channelize his love, passion, and emotions for the game of cricket and to connect other like-minded people on the platform.